Splendour in the Grass Recap
Rating: 2/8/2012
Share
Splendour is over, August is upon us and the influx of summer festival announcements are hitting the inboxes already - Homebake AND Big Day Out have landed- but before the warmer days arrive, let's take one final relish in the splendid long weekend that was Splendour in the Grass 2012.
Upon making a triumphant return to the festival's birthplace of Belongil Fields in Byron Bay, organisers catered to more than 17000 happy campers and partygoers with this year's line-up that boasted headliners Bloc Party, Smashing Pumpkins, Jack White and so many more.
To wrap up 72 hours of musical mayhem, here are a few of our favourite moments....
The Mud - based solely on the premise, what doesn't kill you makes you stronger! We're prepared to conquer any festival now whether that is in rain - literally hail – or shine. That schizophrenic bout of hail on Friday afternoon may have caught us off guard – and sure it caused one slopped up, mud-pen of a maze to traipse through, but the bright sea of neon wellies, the mud wrestlers, the rain dances and the simple notion that we're all in it together didn't dampen festival spirits.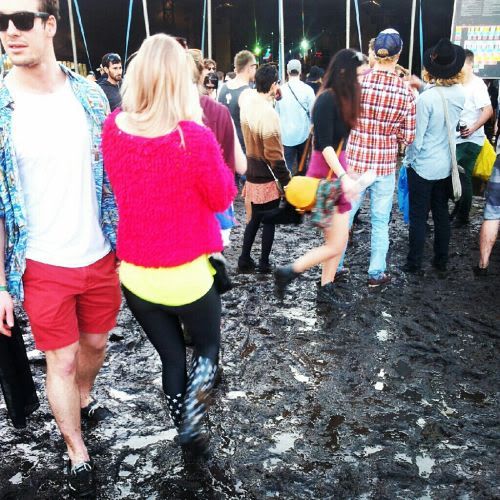 Tame Impala – the little Aussie legends that could. The Perth lads teleported us into another sphere entirely with their warped rays of sunny guitar and psychedelic odes to a freer past. Thire modesty is what sealed the deal – yeah, you got the 7pm timeslot, the tent was packed and the crowd was beaming back at you – but you still took the time to introduce your new band member to the Impala family and thank us all for the ride. Bring on the new album!
The Mexican 'Rojo Rocket' Bar – for those that didn't find it, here's what you missed: flamenco guitar from some exotic looking gentlemen, conga-lines, limbo on the dancefloor, endless quesadillas and a brain freeze from too many frozen margaritas.
That guy who climbed to the top of the 30 metre high pole during Bloc Party –sure we were scared you might fall, but you got a shout out from lead-singer Kele. Major props for climbing that high and staying there for an hour.
Govindas $2 Dinner – a cup of giant deep fried rissoles with a mystery tomato sauce and all for the low, low price of 2 bucks. Thank you for your tastiness and the extra drink tickets we could hence afford.
Jack White and his Lady Band – the all-woman backing band in flowing white made dancing around to Hotel Yorba that bit more enchanting. Shout outs to the similarly impressive boy band with their beards also.
Azealia Banks – those loud pants, the Barbie butt-touching hair and the cheeky grin left us swooning. I think we speak for the whole crowd when we say our feet didn't touch the ground for 212's entirety - a climactic set if there ever was ever one. Please come back soon Azealia, we're hooked!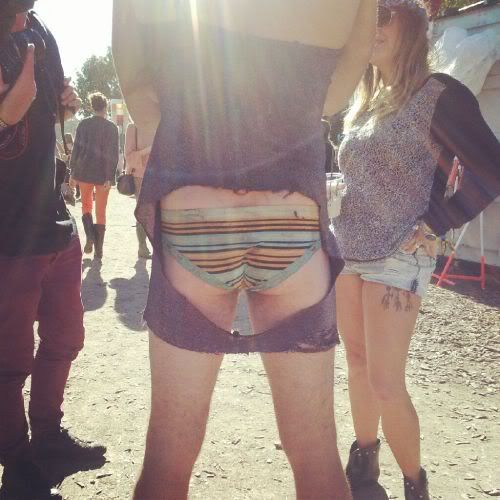 And there you have it...til next time folks!


Photo credit: Tye McBride